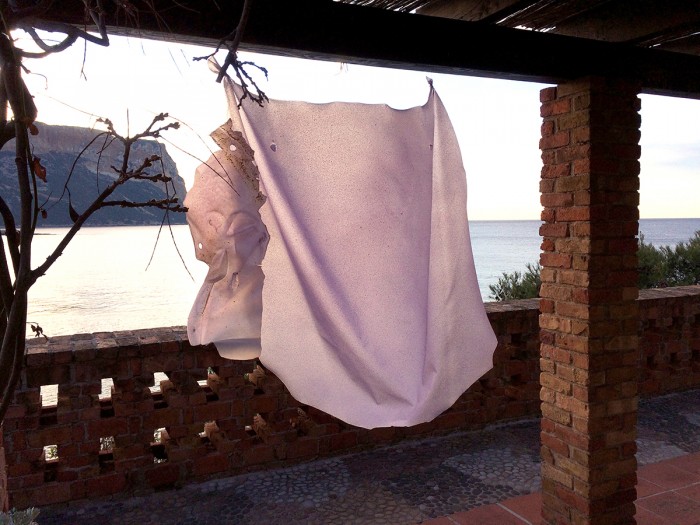 Higher! Higher! Lower, Lower. Louder! Louder! Softer, Softer
opens Saturday 7 September, 18-22.
Building from Shimmer's first program of fading exhibitions in, through, and out of each other, we now shift rhythms by curating singular artworks over stretches of time. In this way, we give the artworks breathing room to settle in and share space and time with us.
Higher! Higher! Lower, Lower. Louder! Louder! Softer, Softer embodies slow deliberate processes, a repetitive changing register, embodying the algorithmic, becoming more supple. To move with the potentialities of the in-between, like water, unfixed, in motion. As such it is fitting that Waterfall#2: Look At The View by Liu Chao-tze opens Shimmer up to works by Gwenneth Boelens and Shanta Rao. Gwenneth and Shanta's works are woven from, and cast out of, industrial material creating intimate works that call for a slowing of time to reveal themselves fully. The semi-translucent glittering soft sculpture, Untitled, 2018, by Shanta Rao was developed through the use of marine paint. A highly elastic paint originally intended for ship hulls dries with a skin-like consistency. Whereas Liar's Cloth (strip), 2017 by Gwenneth Boelens is a handwoven cloth of electro-conductive and reflective fibres, inspired by a West African pattern of the same name that originated during the Ashanti Empire. Together and apart, we are struck how both works appears at once digital yet tactile and amorphous, fixed and unfixed.
We can't wait to see you again, and share with you the works of Gwenneth, Shanta, Chaot-tze and the upcoming news. It's going to be a fantastic season.
Gwenneth Boelens (1980, NL) is concerned with processes of perception, memory, and time; throughout her work she aims to fix the traces of physical movement in space. She does so by working with photography, textile, sculpture, performance and film. Gwenneth has exhibited at MIT List Visual Arts Center, Cambridge; Klemm, Berlin; Kunsthalle Exnergasse, Vienna among many others.
Shanta Rao (1980, IN/FR) makes soft sculptures that reroutes the trajectory of forms. The cycle of re-approaching the primary state of a code or a pixel disrupts the idea of finitude to embrace a reflection on the notions of origin, evolution and becoming. Recent shows were at galerie Joseph Tang, Paris; Kunstverein am Rosa–Luxemburg–Platz, Berlin; Fondation Ricard, Paris among others.
Liu Chao-tze (1991, TW/NL) is a visual artist who takes pictures, not only in the sense of drawings -or photographs- but also something that one produces in one's mind by using imagination and ideas. Her work explores fantasy, memory, identities through the concept of "exotic".
On the edge of Rotterdam's port, Shimmer is an exhibition space that operates with an ever-changing studio-like mentality where knowledge arises through participation and experimentation. Alongside the expanded exhibition Higher! Higher! Lower, Lower. Louder! Louder! Softer, Softer are platforms such as the events program Sunday Mornings With and the online mixtapes On the Waves With, as a means to move through personal and public space. Shimmer is co-initiated by Eloise Sweetman and Jason Hendrik Hansma in February 2018.